619 Limo is one of the most trusted and reliable airport transportation service providers in San Diego area, due to our reliable drivers and unfailing punctuality. We offer A-plus service at nominal rates. This is why our clientele has grown exponentially over the years.
Unmatched transportation quality and rates
619 Limo is among the best San Diego Airport transportation because of our celebrity like services for you at affordable rates. We strive to set a benchmark in San Diego as a top class airport transportation service. Here are some pointers if you are looking for transportation from LAX Airport to San Diego:
Affordable Rates
If you are in love with that same old cheap shuttle services to LAX from San Diego, then you are really missing out on some pocket friently first class quality treatment. Because we provide our top notch services from San Diego to LAX, at about the same rates!
Why would you need a shuttle to LAX from San Diego? 619 Limo is offering you more!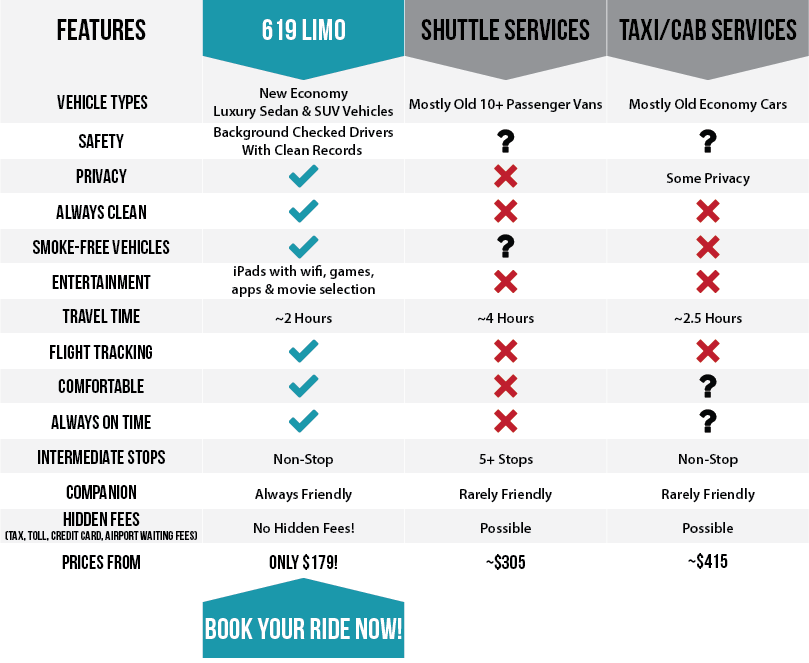 Why Shuttle With Others? Enjoy your privacy with 619 Limo!
San Diego Airport shuttle services do not offer any privacy as you have to share it with others, and if you want to travel alone in a shuttle it will cost you more, whereas we will provide you the car of your choice with assured privacy at the same rate. Hence, our tag line; why shuttle with others? Enjoy your privacy with us.
No stops in between
Shuttle services in San Diego have a lot of stops in between and that coupled with traffic can give you quite a long journey before you even embark your plane. These cheap shuttle services have lots of stops on the way and you have to make room for other people as well. Passengers often complain of getting drained just on the road.
Flat rates
Taxis or yellow cabs in San Diego on the other hand, do offer privacy but are the most expensive model of transportation to San Diego Airport. Taxi services do not have flat rates, and prices diverge.
No rashness
Taxi and shuttle drivers are usually rude and are rash because their money is based upon the number of rounds they make. But that is not the scenario with 619 Limo. Here, we grasp just how important it is to have a safe and relaxing travel experience, therefore, we have made it a priority of ours to hire only seasoned chauffeurs who have clean driving records. All our drivers are licensed, drug tested and checks have been done on their backgrounds, so our customers can be sure that they will reach their destination swiftly and safely.
Here are a few other things you will find on your ride to LAX or San Diego Airport if you choose to travel with us:
You get to select from among our fleet of economy cars, sedans, luxury SUVs as well as vans and bus coaches for your party.
Our vehicles are always clean.
We also provide iPads for our clientele so that they don't get bored and can enjoy their trip with games, apps and movie selection.